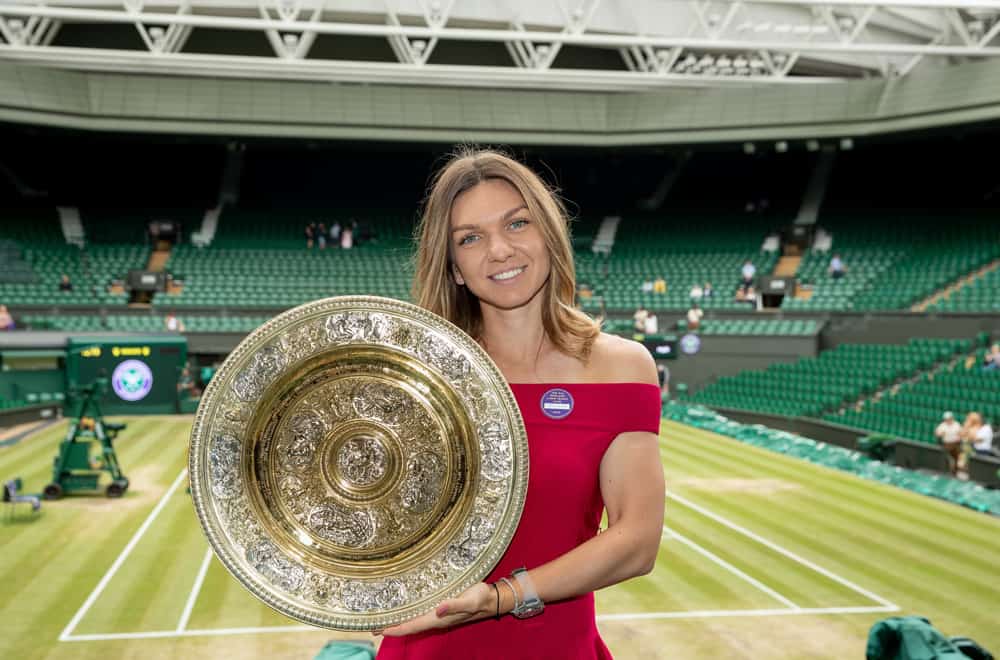 Simona Halep on what Wimbledon cancellation means for her
Calling off Wimbledon was sad — but right
— says Simona Halep, the reigning women's singles champion.
Even though the cancellation of Wimbledon felt inevitable after the past few weeks, I had hoped it might somehow find a way to stay on the calendar as it is such a special tournament. So Wednesday was a sad day and I thought back to some of the happiest emotions of my life last year at the All England Club.
I will miss going back to see Centre Court, the scene of that amazing final last year. I will miss seeing my name on the wall and all the nice things you get as a member of the club. I will miss the grass, a surface I finally fell in love with. I will miss wearing white. And I will miss the feeling of belonging, of being part of the huge tradition that Wimbledon represents.
I know that Wimbledon looked at other opportunities to stage the Championships. They looked at playing without spectators and postponing the tournament, but none of these options worked because of the nature of the surface and the high number of people involved. It makes sense to call it off now so that we are all mentally prepared for it, rather than to wait and let people down at the last minute.
The club sent me a nice email on Wednesday. I had been discussing with them the prospect of doing some filming as the defending champion in the lead-up to the tournament. Hopefully we can do those things next year instead.
I will have the rare and special honour of being a reigning Wimbledon champion for two years
In a positive way, I will have the rare and special honour of being a reigning Wimbledon champion for two years. I love the tradition in which the defending champion gets to open play on Centre Court, so I hope I can still do that next year as that will be something to savour.
Everything has happened so quickly recently. Funnily enough, I was potentially looking at a long lay-off anyway last month. I managed to win the Dubai Championships in February with an injured foot but all of my tough matches that week made it worse and I pulled out of the Indian Wells Open before it was cancelled. In a way, I am fortunate that this injury happened at this time. I have been able to stay at home in Romania, exercise every day and work on my recovery. I am happy that my foot is finally feeling much better, even if I have not hit any balls yet.
So far I have managed to stay clear of coronavirus. I have not travelled internationally since Dubai and I have been very strict about following the rules surrounding social distancing as the situation is pretty scary in Europe. I made a donation for medical equipment in hospitals in Bucharest and Constanta and I urge anyone with the financial means to do the same.
The virus is like nothing we have ever faced before, and it's important to remember that tennis is not important in comparison to this lifethreatening opponent. At this point, I do not want to speculate on whether the remainder of the 2020 season will be shut down. We have to see clear signs that the virus is under control. We have to let our governments and medical staff do their jobs, and when life starts returning to normal, then we can start to think about tennis.
It is striking how quickly our lives get put into perspective. We now appreciate how lucky we have always been to play tennis for a living. We are simply grateful for our health, for our family and friends.
We need to take the battle against coronavirus one day at a time. We will beat this if we all work together and stay positive.
© Photo credit: AELTC