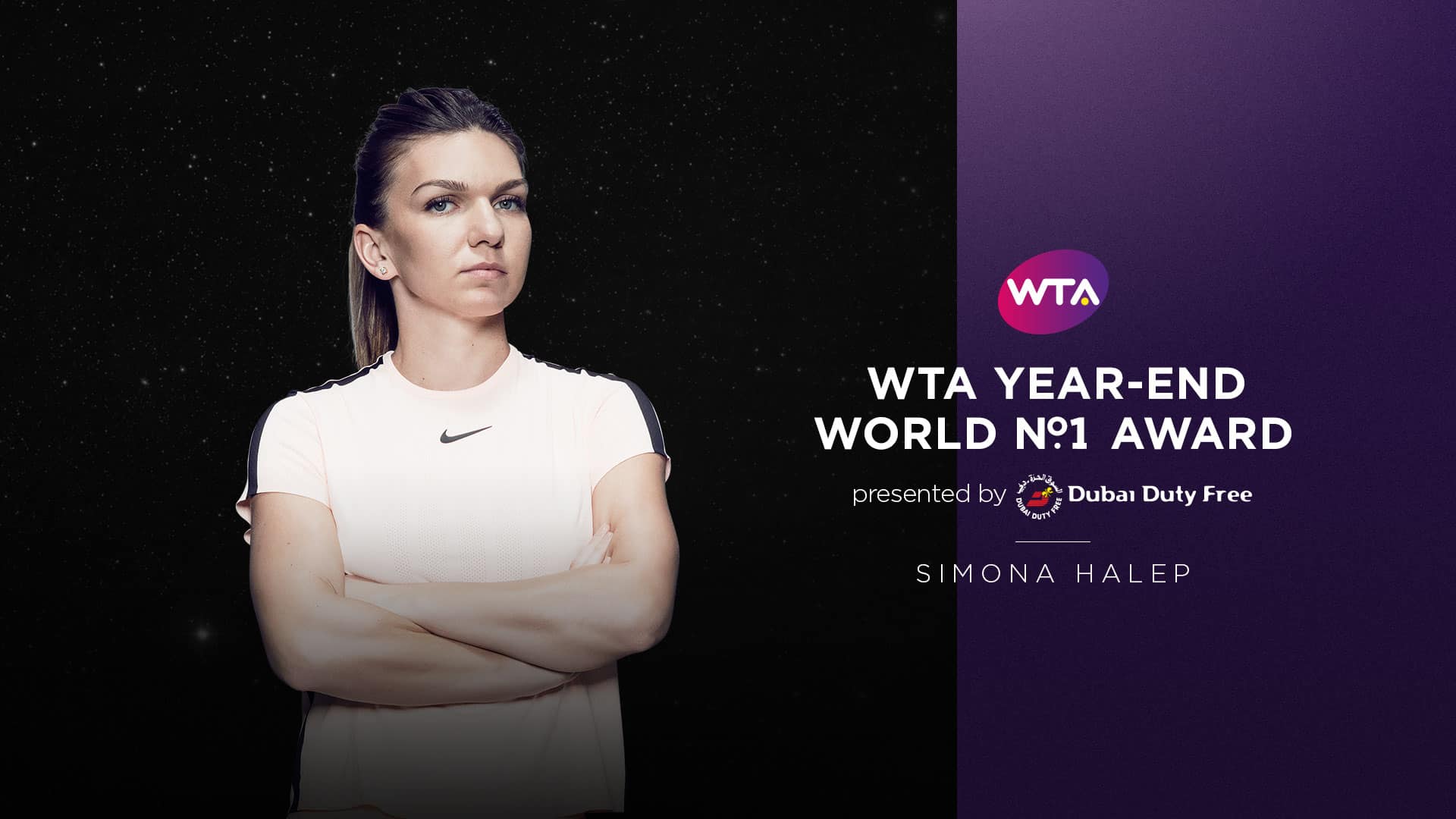 WTA Dedicates World No.1 Trophy to Tennis Legend Chris Evert
WTA celebrates first ever World No.1 Chris Evert by naming trophy in her honor
Reigning World No.1 Simona Halep becomes first recipient of the newly named trophy
The Women's Tennis Association (WTA) held a landmark presentation today, announcing it will dedicate its World No.1 trophy to WTA Legend Chris Evert with official naming of the "Chris Evert WTA World No.1 Trophy. "
Chris Evert became the first ever WTA World No.1 on November 3, 1975 and held onto the top ranking for 260 weeks, the fourth most in history of the WTA. Following the 1975 season that saw her make 17 finals and take home 15 titles, she also became the first player to hold the distinction of WTA Year-End World No.1. The American finished her illustrious career in 1989 with 157 singles titles, including 18 Grand Slam titles.
"I'm honored and privileged to have my name on this trophy," said Chris Evert. "It's the ultimate achievement to be No.1 in the world in any endeavor. When I was a young girl, I always dreamt of winning a Grand Slam but I had bigger dreams about being No.1 because it's about being consistent, focused and having a lot of quality wins during the year, and that, to me, is a champion."
Reigning WTA World No.1 Simona Halep becomes the first recipient of the Chris Evert WTA World No.1 Trophy following her best season yet, claiming her maiden Grand Slam title at Roland Garros and lifting two additional trophies at the Shenzhen Open and Rogers Cup presented by National Bank (Montreal). A further three final appearances at the Australian Open, Internazionali BNL d'Italia (Rome) and Western & Southern Open (Cincinnati) helped her claim the WTA Year-End World No.1 Singles Award presented by Dubai Duty Free for the second consecutive year.
"I'm very happy to be the first player to hold the Chris Evert WTA World No.1 Trophy," said Halep. "Chris is one of the greatest players of all time and I think it's great that she is being honored this way."
Evert was honored on Friday, October 26 during a ceremony at the BNP Paribas WTA Finals Singapore presented by SC Global, where she is a WTA Legend Ambassador. During the final edition of the year-end finale held in Singapore, Evert will participate in fan engagement activities, sponsor initiatives, media interviews and more, all contributing to growing the sport and the prestigious WTA Finals.
The Chris Evert WTA World No.1 Trophy depicts a silver "star-map" tennis ball that represents the tennis universe. All World No.1s, past and present, are represented by a diamond in the sky, which signifies each champion's mark on the sport. The finish of the "star-map" tennis ball is hand stippled with thousands of tiny dots, representing all the female professional players that have ever played the sport in the past and towards the future.