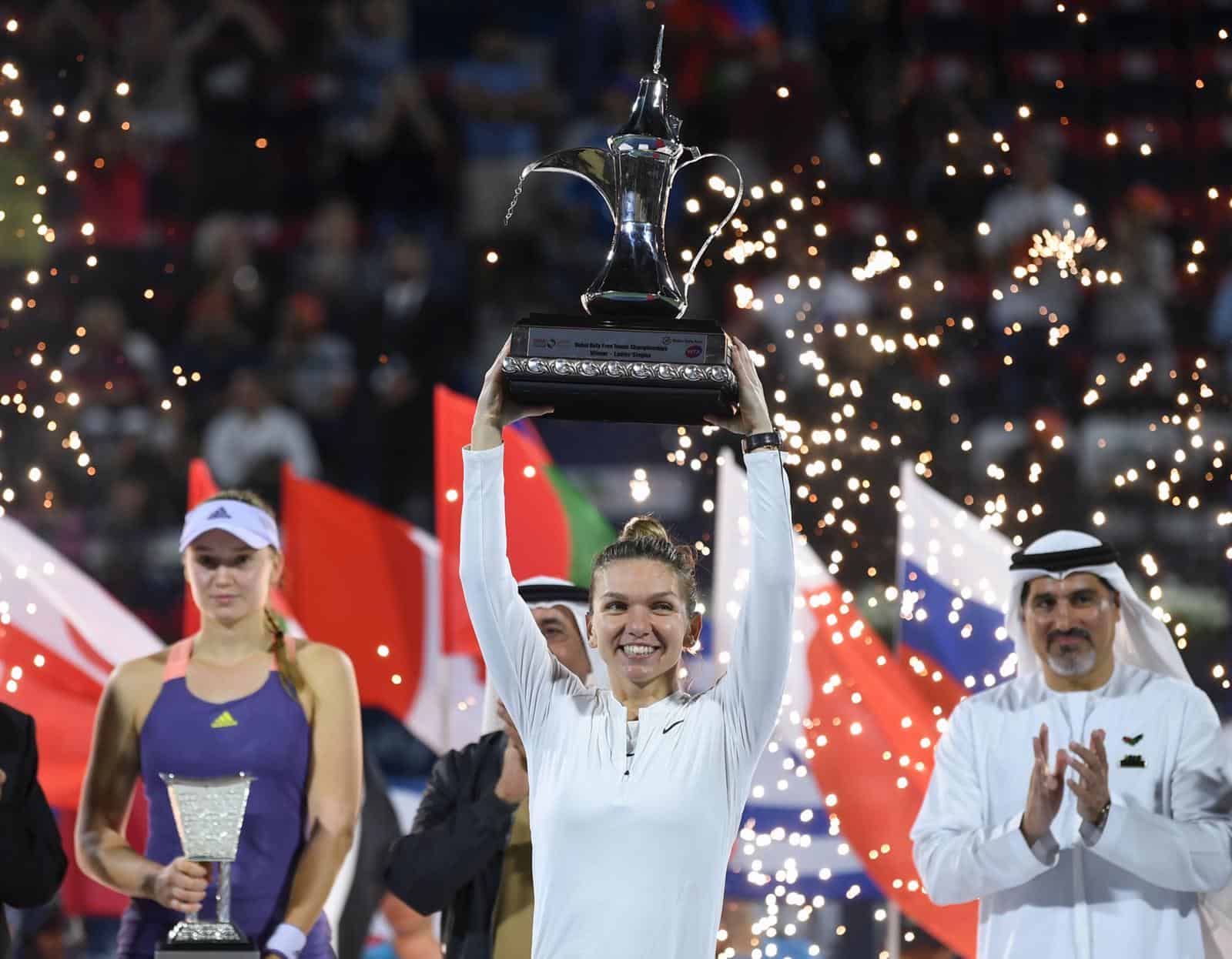 Simona joy at 20th title
A Q&A with Simona Halep, who picked up the 20th WTA singles title of her career with victory over Elena Rybakina in the Dubai Duty Free Tennis Championships final on Saturday.
Q. How does it feel to have gotten through that match?
Well, it feels great that I could win it. Actually, it was amazing. She fought till the end. She didn't give up any balls. It was really tough mentally. The pressure was very high. But I want it badly, so that's why I fought till the end.

I can say that that backhand that was a little bit out. I told to myself that it's going to come around. It came the next ball.

Yeah, I think these matches, sometimes it's better if we finish like equal because I feel in a way sorry for her because she's young and she wanted it so much.

But I'm happy that I could do it. Each way it's been a great match.
Q. What makes her so good? 
She's young. She doesn't feel the fear. She doesn't think too much about the result. What it comes now is a bonus, in my opinion, for her.
She's strong. She has a huge serve. She's tall. She has power. I think she's really good to get into the top 10 very soon.
Q. Anything you felt that was special about her game compared to the others who did well at 20?
She's moving well, even if she's very tall. Her ball doesn't jump that much. It's really tough to find the length of the ball.

The shot, cross backhand, is amazing. She can go also down the line. I think she's at the highest confidence level. I think everything she hits, it's really good now.
Q. I believe you're not playing Doha.
No.
Q. Can you talk about that decision?
Well, it's a decision that I took it before the match. I started this tournament a little bit injured with my foot. I did home 10 days before actually in Dubai I did the training. I got a little bit injured.

But I just pushed myself. I said that every match is important here. I didn't think about anything else, just to win the match. So now I'm happy that I could finish well this tournament and to say stop for Doha. I need rest.
Q. Does the number 20, hitting that milestone, mean something special to you?
Yeah, it's very special to be in 2020, 20th anniversary of this tournament, 20th title. It's pretty special. I just want enjoy it. It's very, very beautiful.
Q. There's only five active players who have more titles than you. Did you know that?
I had no idea honestly. Yeah, it's pretty amazing. I've done a lot of results, many results these six, seven years. I'm staying here in the top 5, top 10, which is not easy. I'm proud of my job.

Also, this tournament gives me confidence that I'm still there.
Q. Are you happy that you're able to consult at freewill with your coach now? What role has he played in tonight's match?
Yeah, he helped me a lot at the on-court coaching. He just calmed me down and told me what I actually have to do better. I was nervous at some moments. Yeah, I was like not very positive to him. Nothing dangerous and nothing bad (smiling), just the pressure of the match.

Yeah, he helped me also during the games a little bit. He gave me a lot of support, which is really important in these tough moments.
Q. You mentioned being in the top 10 for a long time. You have the 10th longest streak in the top 10, 317 weeks and counting. Did you ever imagine being this consistent? What is the biggest key to your consistency?
Well, I always had in my mind that I have to be consistent. I didn't like the way that you win a tournament and then you don't do anything for a few months. I liked to build my power, to build my consistency every week.

Since I met Darren, I thought that we just have to look at the big picture, not just at that week. So, I did that pretty well. That's why I could stay so long time in the top.

I think this makes me more proud than winning titles because if you are able to be there means that you have everything like power, strong mental, physical also, very strong.

I think it's a good position and I'm enjoying it.
Q. What is the first thing you will do to treat yourself in Dubai?
Tomorrow morning I will – better I don't say but I will – I will go to Burj Al Arab. I never been, is a shame for me. I will have breakfast there to celebrate. I'm dreaming of that.
Photo credits © Getty Images