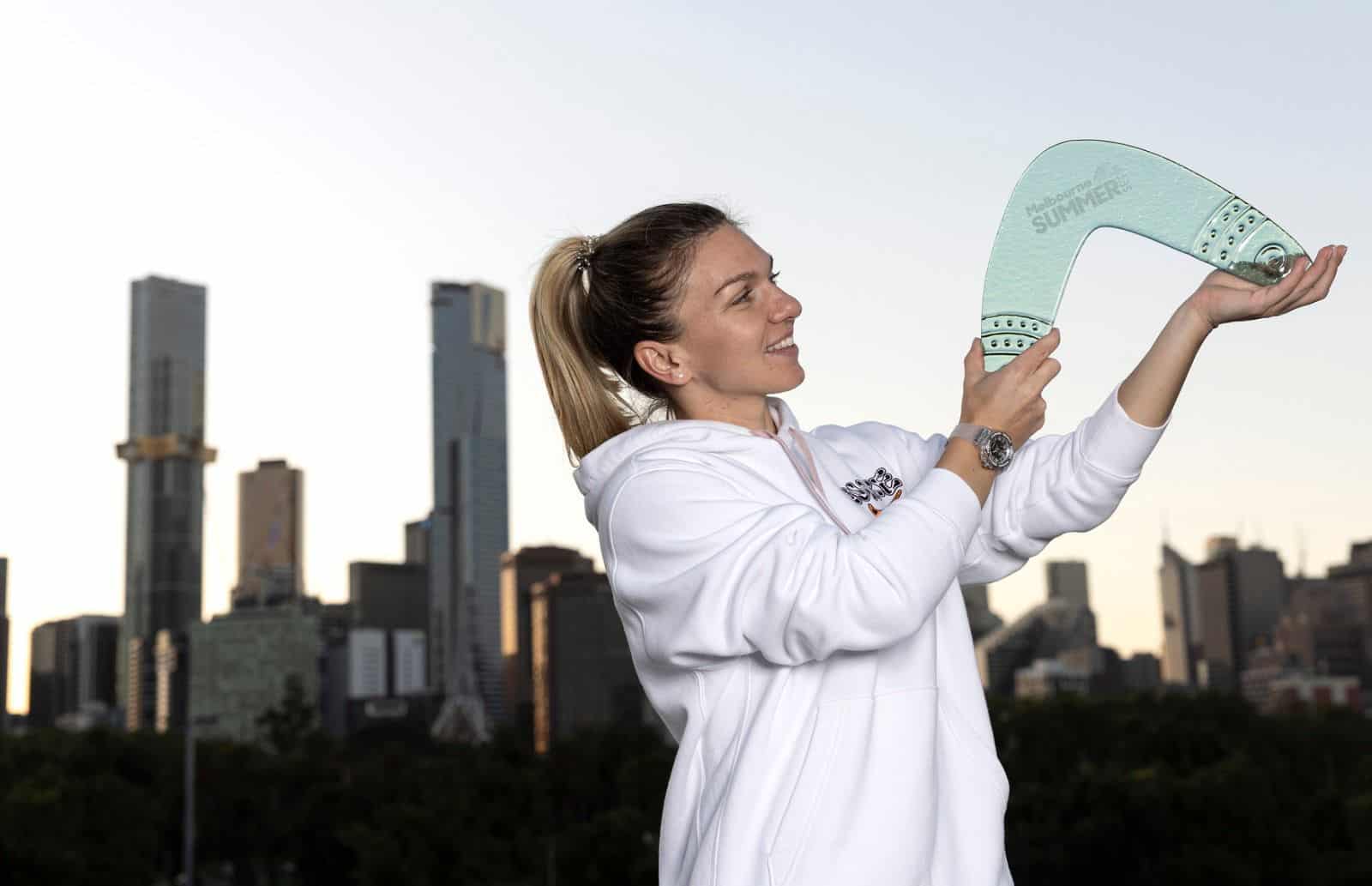 Simona delighted with her "beautiful week" in Melbourne
Simona captured the 23rd WTA singles title of her career, and first in Australia, at the Melbourne Summer Set 1 with a 6-2, 6-3 defeat of No.3 seed Veronika Kudermetova in the final on Sunday.
The No.2 seed was thrilled to get her 2022 campaign off to a winning start after a year of setbacks last year and described her experience in Melbourne as "beautiful" in a post-match media conference.
Question: It must be so pleasing for you and your team to get a tournament win so early in your time in Melbourne.
SIMONA HALEP: "Yeah, definitely. It's great to win a tournament at the beginning of the year. After a tough year, it's always nice to have a trophy in my hands. Yeah, we are all happy, and I'm very pleased with the way I played. I'm very pleased with the way I've been on court. It was a beautiful week."
You mentioned a difficult year. You obviously missed two Slams last year. You came back at the end of the season. How is the body? How is the fitness and confidence coming into this year?
"The body is great. I feel good. I had a tough five matches, and my body is good. I don't feel that tired. Physically I'm in the right place. Confidence is growing. I feel confident. I feel that I have the game to win matches. Of course it's a small tournament, but I played with tough opponents, so it gives me confidence for what is coming."
How much do you take out of – you were down a break in the first set, down a break in the second set and ended up winning both of them quite comfortably. To get those challenges and then overcome them in the moment must be really pleasing.
"Well, I'm not that scared when I lose serve because I lose often the serve, but I am confident in my return. Yeah, I'm not getting scared there. I didn't even think that I lost the serve, I just focused on the return. I just focused on every game I played. I was very positive."
You've won titles in the first week of a tournament before, obviously in Shenzhen a couple times so that aspect of it is not new, but being able to win your first title in Australia must mean something for you.
"Yeah, actually I always like to play here in Australia. I have great memories. But yeah, to win a title means a lot everywhere I play, and here, yeah, it's pretty special for me because of Darren, and yeah, I feel good when I come to Australia. People show me that they appreciate me. They show me love. This is what I care, actually, in this life."
There can be a lot of uncertainty in the first week of the season after you guys are all working so hard in isolation, in preseason, and then jumping into competition. What doubts that maybe you might have had going into this week did you quiet by how you performed this week, how you played and then ultimately winning the title?
"Well, I have worked a lot in the preseason back home, five tough weeks, and I felt ready when I arrived here in Australia. Of course with the jet lag, with conditions that are different, I played indoor back home, so here was very different at the start. But I was confident. I have to admit that I was confident I can play good tennis, and winning that match with Golubic, I felt like I'm still there and I have a chance to win this title. So I felt good. I felt I trusted myself that I'm able to do that, and I think I played good tennis."
I was going to ask you about the Golubic match and how important that match was not only for your tournament – obviously you won the match and won the title – but also for yourself, for your confidence and where your mind is as the season starts.
"Yeah, the mind is in a good place because the tough matches help you to trust more yourself that you can handle all the tough moments during the matches. Golubic is a very difficult opponent because she has that slice that is really good and changes the rhythm, and yeah, it meant a lot because staying two hours and a half on court after the injury I had, after all the struggles that I had, gave me a little bit more power inside that I'm still ready to play tough matches and ready to win. Mentally I was strong. This helps me just to be positive, more positive."
Obviously you're in good form. One week out from the Australian Open, are there things that you'd like to work on that you feel you just need to do to put the finishing touches on your game so that you're ready for the Open in a week?
"Well, yeah. It's totally different. This tournament is finished. It stays in my heart, but now I have to start focusing for the next one. But first I will have two days off. I will just relax myself and then I will start working on what I did actually before, so the same thing. I just want to be focused on myself to improve a little bit more as much as possible in one week, and to be ready mentally, because the mental is really important in these situations after you win a tournament and you start a big one."
Photo: Tennis Australia